Spanish soccer team turns toLED lighting for better broadcast quality

Philips' ArenaVision LED lighting will support ultrahigh-definition TV for Sevilla FC when the team opens the 2017–18 season.

Another major sports team is making the switch to LED stadium lighting, as Spanish soccer team Sevilla FC (Seville Football Club) will open its season under new field illumination from Philips. Both Philips and Sevilla heralded the lights more for supporting quality TV broadcasts than for energy savings.
Interested in articles & announcements on LED lighting for sports & entertainment?
Seville's 42,500-seat, 59-year-old Ramón Sánchez Pizjuán Stadium is installing 360 Philips ArenaVision LED fixtures for the playing area, and 8 network-controlled Philips Vari-Lite VL6000 movable color spots for entertainment lighting, including the Philips NEO lighting console. The lights are expected to be ready when the season opens, which is in August; Sevilla and the other major league Spanish teams have not yet released their schedules.
The LED lights will replace ceramic metal halide.
In a joint press release, neither Philips nor Sevilla FC mentioned anything about energy savings — long a prime motivator for end users to switch from conventional sources to LED lighting, which is known for low power consumption.
Rather, they emphasized that the new lighting supports ultrahigh-definition television broadcasting standards, also known as 4K.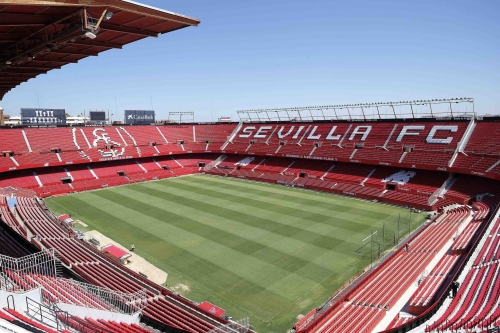 It's generally sunny by day at Seville's Ramón Sánchez Pizjuán Stadium, which will now be better lit than ever at night thanks to LEDs.
It's generally sunny by day at Seville's Ramón Sánchez Pizjuán Stadium, which will now be better lit than ever at night thanks to LEDs.
"We believe it is important for us to have lighting that meets the demands of the television broadcasters and in that sense, we are enormously pleased for Philips Lighting to implement this technology," said Sevilla FC president José Castro.
"The pitch lighting is of the highest quality, adhering to the latest broadcasting standards for 4K television, so that viewers will be able to see fine detail and watch high-definition superslow-motion replays, without the flicker commonly associated with older, conventional lighting systems," Philips and Sevilla said together. "The new LED technology provides clubs with the capacity to alter lighting instantly (unlike conventional lighting systems that take time to warm up) and customize it for a range of purposes from illuminating selected parts of the pitch when training, to creating synchronized light and music shows for pre-match entertainment and concerts," they added. "The system may also be operated remotely."
Philips focused on the same broadcasting benefits last year when it relit the stadium for Turin's Juventus soccer team in Italy. The Seville project is the second such win for Philips this month, following a similar order for field and entertainment LED lighting from Parc Olympique Lyonnais stadium, home to French soccer club Olympique Lyonnais. Philips has already installed the combination at Amsterdam Arena where Dutch team Ajax plays, and the Volkswagen Arena, home of the VfL Wolfsburg club.
LED lighting from Philips and other vendors has been broadly catching on in sports venues. Other examples include American football teams the Dallas Cowboys and Arizona Cardinals and US hockey team the Nashville Predators; the Seattle Mariners baseball team and a host of other baseball fields; Dutch soccer team PSV Eindhoven, British soccer team Chelsea, and many more.
In a novel use of LED lighting, Cologne's soccer team has started to use a wheeled frame outfitted with specially tuned LED lights that help the grass thrive. The system comes from Hennef, Germany-based Rhenac GreenTec AG.
It remains to be seen whether Philips can light Sevilla's way to a crown. Sevilla plays in La Liga, the top league in Spain (in Europe whole teams, rather than individual players as in several US sports, move up and down the different levels). Sevilla last won the league in the 1945–46 season, when it played in a different stadium, Estadio de Nervión. The field lighting then? The sun.