With new
PHILIPS LUMEC RoadFocu
s
LED Cobra Head Luminaires
, you can now reliably upgrade to LED roadway lighting; saving energy, maintenance and operating costs, and contributing to environmental stewardship. At the same time, you'll benefit from performance surpassing that of high intensity discharge (HID) luminaires while retaining the familiar cobra head design. RoadFocus
LED Luminaires
offer more than an energy efficient upgrade from traditional roadway lighting – they provide confident solutions to help enhance liveability in your city or town.

Surrounded by familiarity
With three sizes, a sleek, low-profile design, and many options, RoadFocus extends the same uniform aesthetic throughout all of your roadway applications.

Blankets of light
ROADFOCUS LED LUMINAIRES are the only roadway lighting solution you will need. They provide reliable and uniform LED illumination ranging from 70 to 400W HID replacement, while exceeding the performance of traditional lighting technologies.




Value: now and down the road
This is an ROI example you can achieve by retrofitting 5,000 HID luminaires with RoadFocus.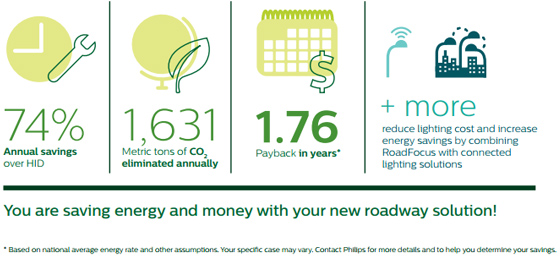 Energy-saving connected lighting solutions
Stand-alone and connected outdoor LED lighting solutions available with RoadFocus help to enhance your sustainability goals through dimming, programmed and wireless management options. Connected lighting solutions may be incorporated now, and can also be easily upgraded in the future.
See how
Philips Lumec
RoadFocus LED Cobra Head Luminaires can provide a complete solution for your roadway lighting needs.